HAPPY NEW YEAR! The year 2023 gets off to an auspicious new beginning with the uplifting Mercury-Neptune sextile on the 1st — a day to relax, heal and visualize how you'd like the year ahead to unfold.  Electricity is in the air once Venus enters unconventional AQUARIUS on the evening of January 2, followed by the enlightening Sun-Uranus trine (January 5), the Full Moon in CAPRICORN & CANCER (January 6) and the inventive Mercury-Uranus trine on the 8th.  We'll want to have our feet planted firmly on the ground— with our hearts & minds open—as we embrace a future filled with unprecedented changes and disruptions of the status quo, particularly from March onward. . .
As always, the first three weeks of the new year — with the Sun in CAPRICORN — are concerned with taking care of business, getting organized, clearing out last year's paperwork and recycling old & outworn possessions (particularly since Mercury is retrograding in CAPRICORN until January 18).  Once the Sun moves on to AQUARIUS on January 20, life begins to free up and advance forward — it's out with the old, in with the new!
The New Moon in AQUARIUS initiates the Chinese New Year of the Water Rabbit, which falls on January 22 (same day that Uranus turns
direct).  Out slinks the feisty tiger, in hops the gentle rabbit — a symbol of luck, peace, prosperity and fertility.   You'll want to burrow in and put your lair in attractive, comfortable and secure condition.  Control a tendency towards over-indulgence and fear-based thinking; instead, stay vigilant, alert, quick-witted, ingenious and flexible.  It is said to be a year where diplomacy, refinement and congeniality are emphasized.  What a welcome concept!
From a numerology point of view, 2023 adds up to a 7 (2+0+2+3).  Each calendar year adds up to a single-digit number, which holds a unique energetic influence and imprint; collectively, we will resonate with the energy of this Universal Year.  The number 7 is associated with introspection, self-reflection, analysis & research.  This will be a year for increasing your spiritual understanding,  developing  greater intuition and seeking inner truth & knowledge.  Interest will likely increase in metaphysical thought, astrology and the healing arts.  You are being called upon to go within, slow down and find a balance between the right/left sides of your brain.  Personal growth and rapid evolution will be your reward. . .
The North Lunar Node (a point symbolizing prevailing social trends) is in TAURUS as this year begins.  It signifies a time for hunkering down, creating more comfort & security in your domestic scene, building a solid community and spending more time in nature.  [Interesting how this is goes along with the energy of the Year of the Rabbit]!  With Uranus also in TAURUS now, you may be inclined to make some major changes on the home front, such as building, remodeling, redecorating, gardening & landscaping, buying real estate or moving to a place with greater growth potential.
On July 17, the North Node begins a new 18-month cycle in energetic ARIES.  A creative, enterprising & risk-taking spirit will be trending.  Once we get past the challenges stirred up by the tumultuous Pluto-Lunar Nodes square (at the end of July), you are likely to get a jump-start into a new business venture, hobby or romance.  And by all means, have fun!
Pluto's initial entrance into futuristic AQUARIUS (March 23—June 11), is the most significant planetary shift of the year ahead!  Pluto has been in CAPRICORN (downsizing, reducing, recycling & paring down to the essentials) since 2008.  We have been undergoing a significant restructuring (and hopefully, increased accountability) in government, laws, taxes, insurance, corporations, financial markets and global currencies as this cycle comes to a close.  Democracy was nearly upended with last year's Pluto return in the US horoscope— a 248-year cycle!
Pluto will only be in AQUARIUS for 2-1/2 months this year, but it will be a powerful initiation of a new 20-year cycle regardless!  It's anybody's guess what surprises this new transit will bring, but it will definitely be an awakening experience.  Earth changes? Nuclear dust-ups? Power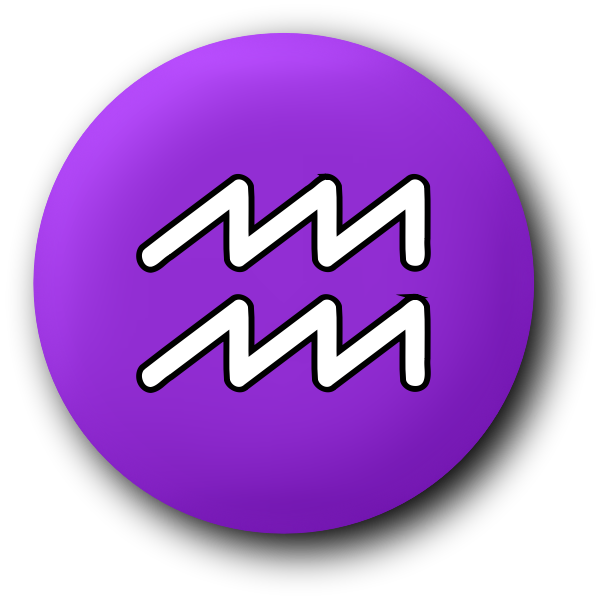 grid issues?  Massive protests? Currency shifts? Extraterrestrials? Artificial intelligence, robotics, technological advancements and scientific discoveries will proliferate.  At the same time, we will need to develop more evolved tools for relating to one another!  Freedom, independence, equality, ingenuity and revolution will be the keywords!
While Pluto cycles back and forth between CAPRICORN & AQUARIUS throughout 2024, the world will continue to undergo a breakdown, transformation & renewal of existing structures, governments & economies.  It's interesting to note that the Articles of Confederation, the first US constitution, came about in the midst of this exact same cycle—248 years ago! The current Constitution was adopted 10 years later once Pluto had settled down in AQUARIUS.  It's a good time to study history so that we only repeat what we choose to!
The continuing presence of Neptune in PISCES  will likely bring more enlightened attention to physical & mental health care, workplace safety, drug policy, medical/recreational marijuana, animal welfare, race relations and gender issues.
Unpredictable Uranus is halfway through its 7-year stay in TAURUS, continuing to stir up significant changes, rearrangements and disruptions in home, family, property & community matters.  The
role of Uranus is to free us from old patterns,  habits or routines  — and to hasten our evolution. We are in a process of questioning the foundations, structures, support systems and comforts that we've taken for granted in the past.  Many will consider pulling up roots, moving their base of operations and seeking greener pastures, perhaps related to the weather, earth changes, political chaos, taxes or lifestyle choices.  Environmental concerns, sustainability, global warming, territorial borders, land & water use, agriculture, earth changes and population shifts will become even more potent issues.
Saturn is in its final degrees of unpredictable AQUARIUS as this year begins.  This 3-year cycle—which began with the pandemic (March 2020)—has tested our capacity to adjust and evolve in a rapidly-changing world.  Having Saturn, the planet associated with tradition  & the status quo. in AQUARIUS, the sign associated with change & revolution, has not been an easy fit!  It's been a challenge to keep technology, computers, phones & apps updated and current — and to keep up with the fast, erratic pace of life itself.
On March 7, Saturn starts its new cycle in mystical PISCES, the sign associated with spiritual development, dreams & fantasies, mental & physical health, exercise, work & employment, pets and service to others.  Saturn's presence in PISCES will require us to take these matters more seriously over the upcoming 3 years.  With patience, discipline & conscientious effort, a more healthy lifestyle can take form as this cycle unfolds.
This year gets off to a rousing start with Jupiter in dynamic ARIES, inspiring you to try new things, be enterprising, take some risks and allow your inner child out to play!  On May 16, Jupiter moves on to  earthy TAURUS.  The Jupiter-Pluto square on the 17th of May could bring some stress & turmoil, but the Jupiter-Node conjunction on June 1, along with the Jupiter Saturn sextile on June 19, will bring in a more grounded, and settled period.  Once again, home, family, community and property matters take on increased importance.
Mars carries on in its long 7-month transit of GEMINI (since August 20, '22).  It has also been in retrograde since October 30—no wonder many individuals are feeling at loose ends, scattered or dealing with respiratory challenges (since the lungs & sinuses are associated with GEMINI).  A breath of fresh air will arise once Mars turns direct on January 12.  You'll be itching to get back in circulation, exchange ideas & information, learn new things, hit the road and connect with siblings, relatives & neighbors.  Your survival instincts will be heightened once Mars begins its 2-month stay in nurturing CANCER on March 25. Finances, fuel, food & feelings will be highlighted; prepare for all contingencies, stock up on basic necessities and stash some cash.
Once Mars moves on to sunny LEO on May 20, put energy into revitalizing your life and personal environment.  Express yourself
and enjoy just being! Plan to focus your energies into work & health matters once Mars enters efficient VIRGO on July 10 — put your life in order.  When Mars moves on to sociable LIBRA on August 27, the emphasis is on participation & cooperation.  Join up with those who share your interests & ideals!  On the evening of October 11, Mars moves on to its own sign, SCORPIO—it's time to power up!  Energize your personal & professional goals, set clear intentions and fulfill your desires.  A positive, expansive & adventurous spirit will emerge as Mars enters SAGITTARIUS on November 24.  Travel, international affairs, education, writing, publishing, marketing, philanthropy, politics and sports  will be highlighted throughout the rest of 2023.
Venus will be in retrograde from July 22—September 3  (a cycle that occurs very 19 months and lasts for 6 weeks).  This represents a
time  for re-evaluating your social alliances, group involvements and collaborative efforts.  You may want to reconnect with friends and lovers, re-examine your tastes and pleasures, and put your life back into balance, peace & harmony.  Considering that Venus will be in LEO from June 5 through October 8, this will likely be a lively and playful 4-month period.  Celebrate life and let your light shine!
It's always wise to be aware of the Mercury retrograde cycles in the year ahead.   In fact, 2023 begins with Mercury retrograding (since December 29, '22) and ends on January 18.  The next ones occur on April 21—May 14, August 23—September 15 and December 12—January 1, '24.  These cycles, which occur every three months for approximately three weeks, represent times for reviewing, editing and regrouping — but not for initiating new projects or businesses, undergoing elective medical procedures, signing contracts or buying cars, computers & electronic equipment.  Instead, utilize these cycles to do your research, repair things, file, de-clutter, clear the decks and catch up with yourself!
2023 will be a transitional year — one marked by significant planetary shifts which promise transformation on a collective scale.  You will be presented with opportunities to experience an increased level of spontaneity, enlightenment and individual freedom.  May your personal evolution and spiritual journey be accelerated in a safe & healthy way — and may you easily overcome any obstacles in your path.  Manifest your dreams!  Here's wishing you a very HAPPY NEW YEAR — and a stellar 2023!
©2023  Diane Elizabeth Clarke