Passion, power and politics rule these days! The Sun is now in SCORPIO — the sign associated with leadership, competition, ambition & achievement. Now is the time to stop procrastinating and channel this potent energy into purposeful action. The force is with you to concentrate on personal & professionalp goals, take on new challenges and enjoy peak experiences. Manifest your deepest desires and go for the gusto — empower yourself!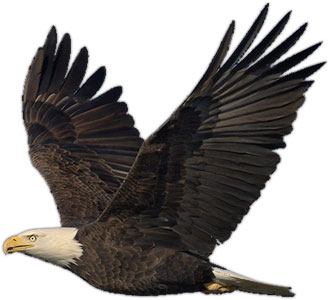 Since crisis, conflict and control issues are also SCORPIO concepts, the responsible use of power & leadership is the ultimate objective of this month. Regardless of what is going on in the outer world, you have the capacity to assume greater control of your inner world, transmute fear into faith and direct any anger into constructive activity. The challenge here is to actualize, rather than manipulate – so, strive for win/win outcomes, take the high road and—like an eagle—fly above it all!
Penetrate beneath the surface of your life and re-examine your priorities. Because SCORPIO is a fixed, water sign, you'll want to confront any submerged feelings, resentments, jealousies or
judgments that may be causing stagnation and holding you back. Avoid engaging in the dark side of the SCORPIO nature: sarcasm, intimidation, vindictiveness and one-upmanship games; instead, make a clear choice to identify with the eagle instead of the scorpion. Re-evaluate your loyalties, protect your privacy and reclaim your personal power!
Mars—the ruling planet of SCORPIO—is currently in fiery ARIES (it's been there since the end of June and will remain there for the rest of the year). It can inspire a hotheaded, dictatorial & volcanic energy when it's not channeled properly. Utilize the innate courage and self-reliance of the ARIES energy to tamp down any volatility, hostility, impatience or fear in your life; redirect your efforts into creative projects, business ventures, romance or fun activities. Get in touch with your inner child and find ways to have fun!
How appropriate that the final presidential debate takes place just as the Sun enters SCORPIO on October 22. It will definitely be a war of words — hopefully the mute button will keep things under control. It is interesting that the U.S. elections always take place in the competitive SCORPIO month — it's all about winning! Did you know that both candidates were born on a Full Moon? Donald Trump is a GEMINI with Moon in SAGITTARIUS, LEO rising. Joe Biden is a SCORPIO with Moon in TAURUS, SAGITTARIUS rising. It's likely that Biden will shine brightly with the Sun & Mercury in his sun-sign; Trump is bound to be especially ferocious and combative with both of his two ruling planets in SCORPIO.
Mercury is retrograde in SCORPIO as this solar month begins, making a conjunction with the Sun on October 25. Expect increased clarity, as well as critical new information coming to the surface! On the evening of October 27, Mercury returns to LIBRA, and Venus leaves VIRGO and joins Mercury in LIBRA — the sign of peace & diplomacy. Could this bring a calm before the storm? This presence of these two planets in LIBRA may also exacerbate indecisiveness, passive-aggressive behavior and complaints of unfairness. Word to the wise: don't procrastinate and plan on getting your vote out ASAP!
Halloween could be scarier than usual this year! The most intense Full Moon of all — in SCORPIO & TAURUS — comes to a head on October 31 at 7:49 am. Also a Blue Moon (the second Full Moon of the month), it is likely to bring some long-simmering issues into full boil. The challenge here is to strike a balance between your public/professional life and your private/domestic life. Claim your sovereignty, protect your home & loved ones, be vigilant and avoid potentially-threatening situations, people & places. Decide where your loyalties lie. This is a time when crises, power struggles, violence and personal vendettas can erupt, and issues involving territorial boundaries, gun control and sexual improprieties could be exposed to daylight.
At the same time, a wild, crazy & topsy-turvy energy is in the air as the unpredictable Sun-Uranus opposition also peaks on October 31. Shocks, surprises, interruptions, radical changes, separations, breakups or breakthroughs could arise out of left field, along with electrical storms, power outages or computer glitches. Be prepared and put your emergency supply kit in order (and don't forget to turn the clock back)! Life can be erratic, edgy, divisive and disruptive at this time — expect the unexpected! With the pessimistic Mercury-Saturn square joining in on November 1, you'll definitely want to play it cool and visualize positive outcomes during this turbulent weekend!
Mercury will finally turn direct on November 3 — Election Day. Life will begin to smooth out a bit from here on, and you'll be free to move forward with any contracts, surgeries, projects or purchases of vehicles, computers & electronic equipment. However, the erratic Venus-Uranus inconjunct also peaks on the 3rd, a strong indication that there will be much uncertainty & angst at the end of the day as to the outcome of the U.S. presidential & congressional elections. Avoid taking out your frustrations on your friends & loved ones.
In fact, the week after the polls have closed will continue to be a contentious period. Challenges, obstacles & delays with the mail-in ballots will likely arise alongside the second Mercury-Saturn square on November 6. The Sun-Mars inconjunct on November 7, along with the Venus-Mars opposition on November 9, will only add more anger, heat & volatility to the mix. Take advantage of the compassionate Sun-Neptune trine, also on the 9th, and explore ways to uplift your spirit and heal your heart in the midst of all the combustible energy.
Mercury re-enters SCORPIO on November 10, potentially bringing a more decisive voice to the situation; it will remain there through November. The third & final Jupiter-Pluto conjunction of 2020 will take place in CAPRICORN on November 12. This potent aspect, which first appeared in early April, describes a turbulent, transformative year in the global economy, politics and the health & well-being of the world's population. Hopefully, the completion of this aspect signifies a closure to the exhausting political rhetoric of this election season — and the beginning of a new conversation about what the future can look like. On a personal level, it could be an ideal time to clear the decks, pay off debts, recycle outworn possessions, re-examine your belief systems and make a fresh start.
Mars turns direct in ARIES on November 13, after having been in retrograde since the end of June. Hallelujah! It's likely that there will be more clarity with the election results now. Personal projects, career goals and business matters will get a new lease on life from here on. The Sun makes a positive sextile to both Jupiter & Pluto on November 14, adding another stimulus for renewal & rejuvenation. It's upward & onward!
The potent New Moon in SCORPIO, also on November 14 (at 9:07 pm PST), can propel you to new heights, so set your intentions clearly, devise winning strategies, and go for what you want! The will-power, determination & courage for tackling big things are available to you from this point on — plant the seeds of future achievement!
Venus —in its own sign, LIBRA— squares off with both Jupiter & Pluto on November 15. Particularly when it comes to friendships & social activities, it would be wise to back off a bit, take it easy and don't force any issues (especially in relationships). This isn't a time to be reckless, impatient or pushy; think twice before committing yourself to taking on more than you can handle. The Mercury-Uranus opposition, late on November 16, could bring changes, interruptions or power outages. Be prepared for surprises and stay spontaneous (and back up your computer if you haven't already).
The solid Sun-Saturn sextile on November 18 will bring about a more steady, realistic perspective as this solar month comes to a close. The Venus-Saturn square, however, on the 19th, could signify some frustrations or disappointments with friends, as well as a possible loss of someone dear to you. Keep your heart open! Venus moves on to SCORPIO on November 21; this can represent a time to join up with those who want the same things you do. Together, much can be accomplished. This is a challenging month ahead — strive for self-control, long-term accomplishments & personal mastery. Power up!
PS. HAPPY BIRTHDAY & SOLAR RETURN to my SCORPIO friends!
©2020 Diane Elizabeth Clarke